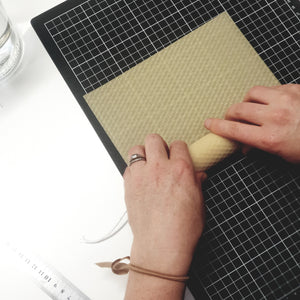 Beeswax Candle-Making
I'm sharing the beeswax candle love and invite you to a Workshop where you have the opportunity to create your own beeswax candles to take home.
I will guide you through a variety of candle-making techniques including rolling, twisting and dipping. 
What you can make:
Rolled pillar candles-These are beautifully simplistic and tend to bring back childhood memories for many. There is a variety of different shapes and sizes you can roll your candles into all with with pure beeswax sheets.
Hand-dipped Birthday Candle Set-These beauties seem to be a crowd favourite and its no surprise. There really is something quite special about inhaling that beeswax scent while seeing the beeswax layers build up after every dip. Coloured wax makes a fun way to customize your own set of 10 candles that will be able to adorn many Birthday cakes.
Twisted Candles-Another unique option you can add to your beeswax haul. Pure mustard beeswax colour or dipped in colour? You choose...
I am Mother/Beekeeper/Candle-Maker and am truly passionate about bees and beeswax. Having grown up around bees all my life as a Beekeepers daughter it was only natural to pursue my own Beekeeping journey for the last 8 years. Having had the privilege of making candles from such a beautifully natural product, it seems only right to share the knowledge and fun of making beeswax candles.
I have done the wick testing, research and a lot of trial and error so you get to enjoy creating your own bespoke candles that will burn beautifully. With a love and respect for bees its important to me, to give the upmost credit to the humble bee by sharing fascinating bee and beeswax facts. 
If you are keen to do a workshop with a group of like minded candle-lovers and create your own personalized candle creations there will be regular Workshops. The best way to stay up to date with dates and placement is to message me here at contact us where you will receive information first.  Alternatively follow us on Instagram, Facebook or check up on this website for event updates.
Workshops will be held at The Edit on Seddon St, Waihi unless stated otherwise. The Edit on Seddon is a beautiful, recently refurbished building in the heart of Waihi township. Restoring this historic space has given a light, modern, work place while emphasizing old school character that creates an inviting atmosphere for a unique hens do, work-do, or hands-on get together with friends. The Edit can comfortable seat 20 guests or Workshops have the ability to come to you. To discuss event details, minimum guest numbers and travel costs please get in touch here.
To view photos and videos from previous workshops please visit @theauthentichoneyco on Instagram and check out the "workshops" highlight.
Can't wait!!
Holly X
---